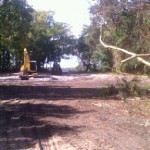 Buying a piece of land can be an extremely valuable investment.  Most people who buy land intend to build on it.  Whether you are planning on building residential homes or a retail shop, the purchased land must be level and free of any plant growth before any construction can begin.
Although it may not seem like a big deal, land clearing is a massive undertaking that should be done by professionals.   Land clearing may look like just chopping down some trees and mowing the grass but it is much more involved than that.  Trees that have been growing for many years can have huge roots and thick trunks.  They require heavy machinery to be both cut down and then hauled away.  When clearing land, machines like backhoes or bulldozers are often necessary to clear things away and dig up the dirt.  Professional land removal companies will come in with the proper equipment necessary to complete the job.  They will clear your land in an efficient and safe way.  Save yourself some unnecessary stress and hire a professional to clear your land.
If you are interested in having your land cleared, contact RealTree, Inc. at321-309-9900 to find out about their services.