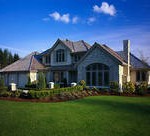 Depending upon where you live in the United States, the type of grass in your yard will vary.  Because different parts of the country have different climates, different types of grass need to be used.  In states like Florida where the weather is hot in the summer and not too cold in the winter, grasses like St. Augustine grass tends to be popular.  St. Augustine grass is a fast-growing grass that is best adapted to warm humid areas that are not exposed to periods of cold weather.
Because St. Augustine grass cannot be purchased in seed form, it can only be planted as sod, sprigs or plugs.   During the winter months any newly planted St. Augustine sod should be watered frequently to prevent desiccation.  Although this type of grass does not need to be fertilized, it is important to do a soil sample every couple of years to check its nutrient content.   St. Augustine grass does not grow rapidly in the winter so frequent mowing is not necessary during this time.  During the winter months is it good to apply herbicides to control weeds such as winter annual broadleaf weeds.
If you are interested in getting St. Augustine sod delivered to you, contact RealTree, Inc. at 321-309-9000 to find out more.