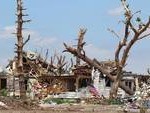 Often, when dangerous weather approaches, property owners worry that trees near their dwellings may fall on their homes causing severe damage to the structure. Unfortunately, it does not take a tornado or hurricane to cause such extensive damage. Something as simple and quick as a lightning strike during a thunderstorm can easily topple a tree that has been standing by a home for decades.
If a tree is unhealthy, it is a very likely candidate to come crashing down on a home. While healthy trees can also fall and damage property, it is the dead, diseased and rotted trees that have the highest probability to cause problems.
Professional tree removal
should be considered to protect the property from these types of trees.
When you call a professional service to handle tree removal, they will be able to take down the tree while keeping your property safe from harm. You should make sure the company is fully licensed and insured to be certain the job will be done correctly. They will cut down the tree and haul away the wood so that your problem is completely removed. Most tree removal companies will even be able to remove the stump, though this may add to the expense.  Call
RealTree, Inc
today to have your unwanted, dangerous trees removed.