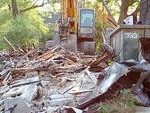 As a homeowner in a coastal region, you may from time to time experience tropical storms and hurricanes that cause damage to your property. In the aftermath of even a weak hurricane, your property contains leftover debris from the storm. Cleaning up your land is not only time consuming but could be dangerous to your health and safety. Hiring a
professional land clearing company
to remove hurricane debris is a wise choice.
Importance
The hurricane debris on your property may contain hazards including sharp metal, wood and glass, downed power lines, poisonous chemicals and large objects such as downed trees. A professional debris removal company knows how to handle and dispose of these materials and has the equipment to do so safely.
Convenience
In the aftermath of a hurricane, your top priority is the safety and health of your family. Instead of worrying about clearing the hurricane debris yourself or waiting for the public utility workers to haul it away, a professional land clearing company will get the job done quickly. You will not have to look at bags and containers of debris waiting for transportation to the landfill or recycling center as debris removal specialists do this for you.