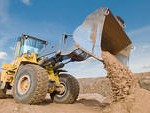 When a contractor approaches an
excavation
site, he takes several things into account. What is being excavated is foremost, followed by examination procedure and possible rainfall. With these factors in mind, the contractor may employ one or more of the following methods.For large areas that will be completely excavated, horizontal excavation (also known as open area excavation) will be used. It strips away strata layer by layer, exposing the entirety of the area little by little to be broken up and examined by grid square.For mounds or areas where there are multiple layers to compare, vertical excavation involves digging a trench through a site. Vertical excavation allows for easy comparison of strata layers and examination of mounds without destroying them. A laser level is used to take site measurements before digging. Some areas of horizontal excavation are combined with vertical excavation if there are deep layers of occupancy to examine. When the general layout of a site is known, keyhole excavation can be used to dig trenches only into areas of interest, leaving the rest of the site undisturbed.
Step trenching is a variation of vertical excavation for very deep sites. Stair steps are carved into the trench sides for easy access.
For vertical excavation areas possibly prone to water logging, cofferdams are used. The walls of cofferdams are cut to prevent sediment cave-ins. Contact
RealTree, Inc
for your next excavation project.