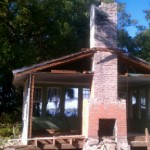 When people think of the word "Demolition", they often have images of wrecking balls and more dramatic explosive demolitions of large structures. The truth is demolition services are used for a wide array of structures. Homes, barn, outside structures, pools and patios are all structures that may require professional services to have removed.
Older homes may be purchased and demolished so the land can be rebuilt. It is not enough to tear down the structure. To prepare the land for rebuilding, the structure, foundation, plumbing and underground support structure must also be removed. Demolition services are able to take down the structure and sub structure, remove debris and make sure all local permits are pulled.
The demolition of condemned or abandoned homes are a challenge for demolition services. Condemned structures are often weakened or be fire hazards. The destruction of these homes requires careful inspection and planning to make sure that structural and fire risks are eliminated. Pests are another consideration that can expose neighbors and workers to risks as well. These buildings require special planning and care that professional demolition services are able to provide.
Pools, patios and more may also require professional demolition services to fully remove. Demolition experts are able to make sure that structures and underground support structures are fully removed. It is not enough to make sure walls are taken down. It is essential that all of the structure is removed according to local safety codes. When removing any structure from property, only licensed professional demolition services should be used.