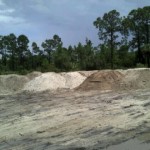 Grading and leveling your lawns, landscaping and gardens will allow you to enjoy your yard and protect the structural integrity of your home. Planning the grade of your landscape features is the first step toward easy maintenance and a successful lawn or garden.
When you are planning or seeding your lawn, keep in mind that a gentle slope is recommended for at least the first ten feet away from the foundation of your house. This slope should be a minimum of one inch per ten feet. That same pitch is recommended for drainage on brick, stone or concrete patios. If you do not have a professional slope measuring instrument, an inexpensive string level will work for most projects.
If you cannot bring your lawn to a level grade or if it slopes toward your house, you may need to construct a small ditch to direct water away from the foundation. This ditch should be seeded with grass if possible to maintain the aesthetics of your lawn and to prevent erosion.
If your landscaping includes flower beds and garden areas, you will also need to give careful consideration to the grading and leveling of these features. Depending upon your plan for watering – drip systems, sprinkling or ditch irrigation – you will want to use grading and leveling to design your beds and gardens to make the best use of the water you apply.
Properly grading and leveling your landscape will pay off for years to come.