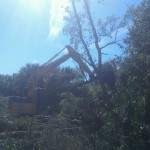 A couple has decided on building their new home. They have purchased a beautiful wooded lot in the country. There are several magnificent trees scattered at different locations on the lot. A small area of the lot is covered with brush. They have decided to leave a small part of the brush in its natural state. They consider this an ideal place for wildflowers and a wildlife refuge. They enjoy watching bunny rabbits cavorting on the lawn.
The new home will be situated to use the magnificent trees to the best advantage in landscaping and providing shade for the home. The professional land clearing company will follow all of their wishes regarding preserving or improving the natural terrain and retention and protection of the trees. It is possible that some unwanted trees could be harvested for timber. Sometimes firewood can be salvaged and used by the homeowner or sold. Waste wood can be chipped and utilized as mulch.
The land clearing company has the proper equipment, and they have highly skilled operators to achieve this with the utmost efficiency. The topsoil will be removed and replaced after the clearing and grading are finished.
When the project is completed, the couple can rest assured that the lot will be ready to begin building their new home. They will be happy they used the services of the land clearing company.