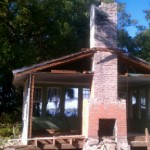 When structures become dated and renovation is impossible, then for safety purposes, the building must come down. The demolition will need to be approved by the state government along with the city's officials. Steps must also be taken to reduce the possible negative effects for the community.
During the demolition process, the company handling the structure elimination will need to file the proper take down permits. The company will need to include information regarding the demolition such as how it will remove the building, cost calculations and the disposal course.
The demolition company will also need to test the structure to make sure that the take down of the building will not release dangerous chemicals into the air. An impact study may need to be sent to the state regulatory board.
During the demolition process, dangerous chemicals are removed from the buildings internal structures such as the pipes. The next step is to remove appliances, equipment or fixtures. The company will reduce asbestos and lead paint to prevent toxins from entering the atmosphere. At that time, the structure is ready to be demolished.
Demolition experts will remove the leftover debris by recycling materials that can be reused and eliminating hazardous materials in an approved landfill site. The disposal area will need to be acceptable to the state and the demolition company. Fortunately, demolition companies have the training needed to protect the public's safety during the removal of a building.