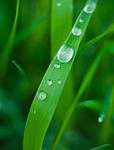 Farmers or people with serious green thumbs may not always have great luck with having "perfect" grass for planting or harvesting can still do it with sod. Sod is a great substitute that has its own roots and vibrant grass. However, laying sod means doing it at the right time and after the proper soil care has been implemented for a better result.
It is known that it is not practical to have frozen lawn for sod-laying because the sod will become hard and frozen, not allowing the sod to properly survive and flourish. The best time to lay sod is pretty much any time of the year as long as there is no frost or snow on the ground. For an even better result, wait until late summer or early fall to lay sod because the lawn's soil is cool, which prevents over-watering. Same goes for laying sod in the spring time because of the rain, which again prevents over-watering. If one wants to do the sod-laying during the summer months where the temperatures are high, they can, just make sure to water the sod so the lawn would not dry up, which in turn, can ruin the sod with the dryness.
Not only that, it is also imperative to treat the lawn's soil in preparation for the sod to be laid beforehand so the roots from the sod can better grow and become blended with everything under and around it. Also, it helps to lay sod as soon as it is received to prevent drying out. If one wants to wait to lay sod after receiving, store it in a cool, moist place, and keep it rolled up.