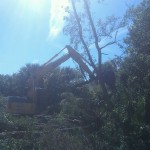 Trees are active environmental contributors, and they can be aesthetically pleasing, too. There are times, however, when tree removal is unavoidable.
A new construction project is an exciting venture, but sometimes trees stand in the way of progress. New trees can often be planted elsewhere on the property.
All trees reach a point where excavation is required. The tree may be very old, or it could have a disease. With time, this plant's structural integrity will fail. A diseased tree can also pass the infection on to other trees.
Severe weather can wreak havoc on trees. Strong winds can tear large branches free, and lightning can split a tree in half. Trees are often irreparably damaged in storms, so it is best to remove these broken objects before they cause serious damage.
Trees regularly pose a threat to surrounding structures. Essentially any tree that stands close to, or hangs over, a building is a risk. Branches can be trimmed, but trimming needs to be done regularly and can cost a lot of money.
Many homeowners view trees as a liability. They regularly damage buildings, and their branches and roots can also destroy vehicles, pavement, and even underground wires. A loose branch could fall and injure someone. Oftentimes, the damage caused by a tree is the responsibility of its owner.