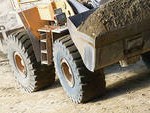 Fill dirt, this term often conjures up thoughts of construction sites, and large grading projects. While these are common places fill dirt is used, there are also many applications for the home owner.
If you have ever dreamed of a beautiful flower bed, or raised garden around a deck, then fill will be required to build up the bottom layer. Suitable vegetable gardens often need a base layer under the rich soil.
Many former above ground pool owners, dread going into the back yard due to the shallow crater left in its wake. Not only can the scar be unsightly, but unsafe as well. Fill dirt will be needed to fill the hole, and provide a base for grass.
In some areas, homes often have low-lying spots in the yard, and driveway. If these spots are not filled, they can become a breeding ground for waterborne insects. On sloped lots water may not be an issue, but damage to cars can be a large concern from drive way holes.
For larger projects such as new home construction fill dirt is an absolute necessity in a lot of cases. Often times areas directly around the home will need to be built up and sloped away for proper drainage.
These are just a few examples of the many uses for fill dirt. From small projects to large jobs, it is used everyday.