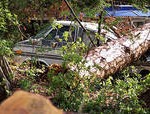 In the past, trees have caused serious damage when hurricanes have hit. Not only can trees topple, blocking roadways and destroying property, they have also hit telephone and electric poles. In preparing for hurricane season, it's imperative that homeowners have their own trees evaluated. This might include trimming and other maintenance. In some cases, it might be important to have the tree removed. Tree removal is necessary for certain types of trees and trees in certain conditions.
Tree removal is necessary when a tree has certain characteristics that make it dangerous during hurricane season. Trees that have shallow roots can be dangerous and should be removed. This is because more shallow rooted trees are more easily pulled out during a hurricane. Additionally, the uprooted tree can cause serious plumbing and other damage. Trees with brittle branches or trunks may also be removed, as broken branches and wood parts can be seriously destructive during a hurricane. As a general guideline, trees that are top heavy can also be highly dangerous during a hurricane. These types of trees are easily uprooted and toppled over, and can cause serious damage to homes and other property.
Tree removal may be necessary in preparing for hurricane season. Homeowners should always be aware of the potential dangers and destruction that trees can cause during a hurricane. Maintaining trees can be elemental to safeguarding the home and community.