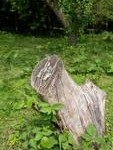 A yard full of tree stumps is unsightly. Granted removing tree stump, especially the stumps of older trees, can be a job. Many homeowners will simply call on tree removal professionals to do it. But there are ways that the homeowner can remove tree stumps from their property that aren't too arduous and don't involve excavation or chaining the stump to a mule team and having them drag it out of the ground.
The homeowner can rent a stump grinder and use it to take the stump out of the ground. A longer but somewhat less laborious way to get rid of a stump is to use stump remover, which can be found in most garden stores. The homeowner drills holes around the rim of the stump. The holes should be drilled about three or four inches into the wood and at a 45 degree angle so that they meet in the center. Then the holes should be filled with potassium nitrate powder and water. After about a month to a month and a half the stump will be rotted enough to be broken up with an ax.
Another way to get rid of a stump is to drill holes into the stump and fill them with kerosene until the kerosene saturates the wood, a process that can also take a few weeks. Then the stump is set on fire and left to smolder. To make it safer, the homeowner should wrap the stump in chicken wire. When the stump is reduced to charcoal, it can be taken out with an ax.