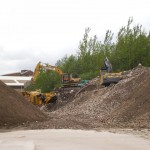 Many believe that it is faster and more cost-effective to undergo renovations, such as excavation and grading, by themselves. However, it could potentially be more expensive and risky for you to take on these projects yourself. Here are some key problems you may encounter:
Costly Errors
In many cases, excavation and grading is required due to excessive or inadequate drainage. You may want to undergo a grading project for landscaping, building, or drainage problems. Drainage can affect your home and property and create more unnecessary costs in the long run if not properly addressed. This could include excessive tilting, soil structure or even foundation cracks. An excavation and grading specialist will have the right excavation machines and will be able to determine the rise and run of your property and provide effective drainage solutions.
Meeting Regulations
There are hundreds of building regulations that many home owners or property owners may not be aware of, especially regarding demolition. If you were to be visited by a building inspector, you may be liable for not meeting these requirements. Failure to comply with the regulations may result in the shut-down of your project. Worse, you may put workers in danger, resulting in harm or even death. By using an excavation and grading specialist, they will alway ensure that your project is meeting the necessary regulations.
Budgeting
When starting a project on your own accord, you may not be aware of the costs, from small to large, that you might encounter. Blowing a budget is a problem that many d.i.y. enthusiasts face. It can lead to larger problems like stalling the project or even bankruptcy. Avoid surprises and speak with a professional to discuss your budget and the costs you can expect.