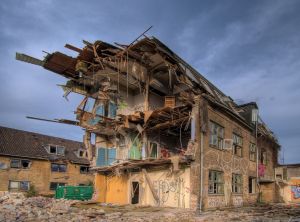 Home demolition is a process that could be required for a variety of reasons. If an old building has been condemned as being unsafe, its demolition may be ordered by the authorities. Sometimes it's desirable to remove an existing home in order for a new home builder to begin excavation of the property for the purpose of constructing a new structure in its place.
Our demolition company is experienced in residential clearing and has the necessary equipment and expertise for quickly and safely demolishing a home. We will obtain necessary permits, submit the required work plans, handle the notification process as may be required and survey the premises to determine the preferred method of demolition to be employed. The two main factors to consider when deciding what type of demolition techniques will be used are the size and the location of the building to be destroyed.
The demolition specialists will also see to any and all safety or health hazard considerations. Homes containing asbestos will require special safety precautions that must, by law, be properly followed. In addition, any hazardous materials located on site must be removed before work begins.
Equipment typically utilized during residential demolition includes bulldozers, front-end loaders, backhoes, cranes and the trucks used to remove the debris. While cranes swinging a wrecking ball may be employed when working on larger structures, smaller houses, especially when located in neighbourhoods, will not usually get the wrecking ball treatment. Because so much dust and dirt is generated during the wrecking process, large hoses will generally be used to continually wet down the entire area, keeping airborne particulates down to a minimum. Once the knock down has been completed, all existing debris will be removed from the demolition site.Prior to beginning the tear down process, window glass is often removed to prevent it from dangerously flying through the air when shattered. Also, anything of value still remaining in the home that can be salvaged beforehand will likely be removed before the razing process begins.