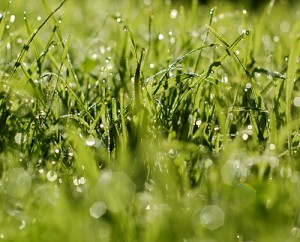 Properly leveling the yard or lawn on your property is important when planting grass or replacing grass with sod. Preparation of the property is the first step that is required. Your property will need surveying to determine the slope that is required when land grading. Once the leveling of the land is finished, then you can consider landscaping ideas.
A level yard is needed to ensure proper drainage to prevent leakage into the foundation. This is done by preparing the soil by grading. This step involves determining the slope of the yard and drainage. A lawn that has existing trees, sidewalks, or a driveway will need to may effect your grading options. You need to grade your yard so it will slope away from your home to a drainage area. This is typically a culvert at the end of a driveway.
Grass that has been removed to install sod needs to be level. The soil will need to be finely graded with a rake or mechanical grader to ensure the sod is uniform when it is installed. This is needed to get rid of bumps and low spots in the yard. A roller may be used to flatten the surface. The soil will be firm so see it there are any hollows that have been missed.
Yards that are properly leveled will make edging much easier. Edging is done to create a boundary seen along the perimeter of the lawn. Level property allows you to run a lawn mower along the edge of your yard for a cut that is trim-free. If your property is not level, then the edging will not be uniform and can lead to uneven looking grass along your edging. Hire a local landscaping contractor that is able to level your yard for any type of project that you need to complete.