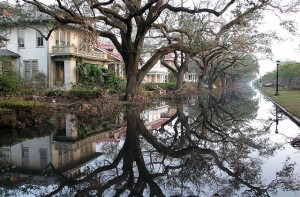 When the National Hurricane Center issues a hurricane or tropical storm warning for your area during hurricane season, you may take precautionary steps to secure your property before the storm arrives. However, even with the best safeguards against damage in place, the heavy rains, high winds and other destructive forces of a hurricane can cause significant damage. A strong storm can cause water damage inside your home and wind damage to the exterior of your home. Debris and even hazardous waste and viruses like E. coli, Hepatitis A, Salmonella and more may be present from contaminated flood waters.
The high winds from a hurricane can easily break windows, can cause tree branches to fall and can even uproot trees entirely. Contacting a professional for tree removal service is often beneficial to clear away excess brush, limbs and more. A professional can remove the branches and limbs with care to preserve the health of the tree if possible and to protect the structural integrity of the home.
You should also utilize the services of a professional land clearing company to remove the additional waste from your property. Flooding can also cause a significant amount of waste to be on and inside your property. Debris can float from miles away, and you may find trash ranging from home furnishings and clothing to empty soda bottles and more washed up on your property. With severe flooding, sewers can back up, and you may have hazardous waste on the exterior as well as the interior of your home. Even items that seem safe for you to remove on your own may be covered with harmful bacteria and viruses that can make you severely ill. Because of this, removing waste from your property after a flood should be handled with great care. If your home has experienced flooding, it is best to call a professional to safely and quickly clear away the waste from your property.
While the devastation that you find upon returning to your home after a hurricane can be profound, you can most easily clean up your property after a hurricane by calling for professional assistance.