Much of the nation's landfill comes from construction demolition. To combat this, demolition practices have adopted deconstruction techniques that are much more environmentally acceptable. By employing a demolition service, more than 75 percent of a building can be reclaimed.
Construction demolition needs the right removal equipment to make it worthwhile. Using specialized equipment, structures are disassembled to recycle products and reduce waste. A demolition service is knowledgeable about permits and is capable of handling safety concerns, such as asbestos products. Employing their services guarantees swift, safe and professional results.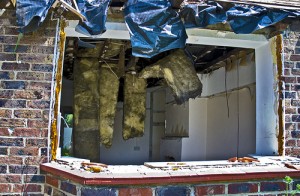 There are many items in a building that can be reused, which ultimately reduces waste. Windows, sliding doors, stained-glass and ironwork are highly sort after by renovators. Ornate staircases and mantelpieces, fireplaces, light fittings and mirrors are all wanted. Bathroom furnishings and even kitchens can be reused. The appliances in houses can be sold in working order or used as parts. Even the window dressings, awnings and carpeting are valuable. Using the correct removal equipment ensures many of these items are in a condition to be reused.
Contractors are seeking re-milled lumber for paneling, new floors, doors and windows. Country and industrial styles of interior design salvage unique, distressed items such as slate, hardwoods and marble. Re-purposed structural timbers are wanted for fencing, outdoor furniture and even barns. Particleboard is made from ground waste wood. Demolition removal can turn asphalt, concrete, brick, stone, pavers and shingles into gravel for pavements, driveways, road bases and even landscaping projects. Scrap lumber and plant debris make composting.
Copper is one of the most sought after products in demolition. The average dwelling can have approximately 400 pounds of copper hidden in its walls. Scrap-metal is also highly prized.
Buildings are rich with items that can be salvaged from landfill for recycling, reusing and re-purposing.