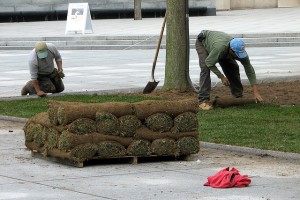 Laying sod comes with many advantages over spreading grass seed. It's more reliable and it saves work over the long term. Furthermore, using sod gives you the satisfaction of having instant turf. However, sod is not invulnerable. When the installation is not done properly, it can become unsightly or even die. To avoid this costly hassle, here are some of the best practices to follow when installing sod.
Clean Up the Area
Before you lay sod, it's important to make sure that the roots won't be impeded. If there are grass and weeds growing all over the intended location, remove them. Similarly, you will also need to remove any leaves, large rocks, moss or other materials that can prevent rooting. Any unwanted plants should be removed now so that you don't have to disturb the sod later.
Prepare the Ground
After removing existing weeds, unwanted plants and debris, it's recommended that you till the area. This brings rich soil to the surface, aerates it and improves drainage. Also, consider investing in a soil test kit and adding amendments as needed. Amending soil is especially important if yours is heavy with clay and drains poorly. Nobody wants to deal with floating sod after a heavy rain!
Setting the Stage
The day before installation, water the ground thoroughly. This ensures that the sod has the best possible start, since the moisture will encourage the sod to root into the soil.
Care for Your Lawn
After placing sod, lawn care is of the utmost importance. Go over it with a lawn roller to increase the contact between roots and the ground. Give it a good watering every other day at first and keep any weeds pulled up. Many people who don't know how to install sod make the mistake of not giving it enough care after installation and end up with large brown swatches in their yard.