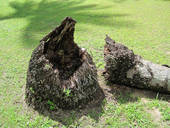 Decaying trees can not only be unsightly, they can also be dangerous. Falling limbs can cause expensive damage to structures and landscaping. During stormy or windy weather, a toppled tree can crash through homes and even cause injury or death. To prevent these problems, homeowners should carefully inspect their property's trees for signs of a sick or dying tree. Look for symptoms dead tree removal experts recommend, such as issues with the leaves, branches, trunk, bark and root system.
1. Leaf Symptoms
One of the first symptoms a homeowner might notice that signal a sick tree is excessive leaf drop. Of course, deciduous and even some conifers drop leaves and needles according to their natural seasonal cycle. However, a tree that suddenly loses many of its leaves in spring or summer is likely to be sick. Leaves that stay attached but are discolored and shriveled before autumn are another symptom of sickness.
2. Branch Symptoms
In addition to falling leaves, falling branches are another sign that someone might soon have a dead tree on their hands. While storms might snap off branches on healthy trees, a sick tree will drop bare, leafless branches. A closer look at the branch will probably reveal rot or insect damage.
3. Trunk Symptoms
The quintessential owl whole that appears in so many children's tree drawings is actually a bad sign for a tree's health. Look for rot out spaces near the base of trunk for other indicators of sickness.
4. Bark Symptoms
While a healthy tree usually has soft, pliable bark with even coverage over the surface of the trunk, a sick tree might have flaking, brittle bark. "Bald" spots are another symptom sick trees can exhibit.
5. Root Symptoms
If a tree's roots are constantly waterlogged or damaged by heavy vehicles or cuts from lawnmowers, the entire tree could be at risk. Look for signs of sogginess, such as fungus and wood ears.
It's important to know and spot the various signs of arboreal ailments, to prevent death of trees and damage to property.