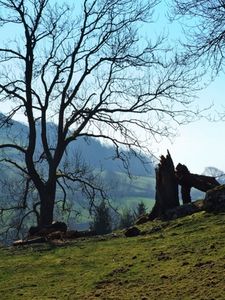 For many years, land clearing was an unsightly, complex process that consumed large amounts of natural resources and left a permanent impact on the environment. The new method of mulch land clearing is quickly becoming the most popular technique used in the land clearing industry. This is largely due to the fact that mulch clearing is less costly, less time consuming and leaves less of an environmental impact on the area being cleared.
Older, more traditional forms of land clearing were fundamentally flawed in several key ways. First and foremost, these methods (including slash and burn, bulldozing and backhoe, and chainsawing) were overly destructive. Of course, the purpose of land clearing is to destroy and remove unwanted brush, trees and stumps from a plot of land. However, traditional clearing methods eliminated desirable properties of contoured terrain and land appearance along with the scrub, stumps and trees. This necessitated expensive landscaping and land repair after clearing had completed.
Next, traditional methods have become prohibitively expensive. As natural resources are depleted, development costs have greatly increased. Slash and burn and cutting methods are labor intensive, require expensive permits and have a high accident rate. Mulch clearing uses the trees, stumps, brush and scrub already on the land to create mulch as the land is cleared. This preserves topsoil, requires only a small work crew and is not extremely expensive.
Mulch clearing is a definite improvement over traditional clearing. It is less expensive, environmentally sustainable, leaves little damage to the landscape and is much less dangerous to work crews. Additionally, a mulch clearing project can be completed much more quickly than other methods. Because no waste needs to be hauled away and because the process is easy to learn and implement, entire clearing projects can be completed much more quickly than ever before.