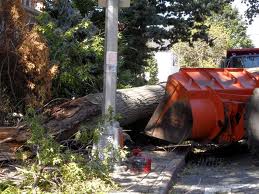 Natural disasters can be a devastating occurrence, both emotionally and financially. Especially with a hurricane, the storm damage can cover an exceptionally wide area and the cost of the entire cleanup can be astronomical. In order to clean up the mess left behind by a hurricane, with a minimum of trouble, it is best to use professionals.
Using professionals can have many benefits. First, doing it yourself can be dangerous. With such widespread damage, often involving downed trees and power lines, it can be extremely dangerous to even enter some areas. Trained professionals with the necessary equipment and specialized knowledge can safely and efficiently remove storm damage without causing further problems. Also, it is often a challenge to haul away large amounts of debris, which professional companies are better equipped to handle.
Secondly, a licensed and bonded company is a safer bet than some fly by night operation. They have a reputation to protect and they will work hard to satisfy their clients. There are numerous reports of less than legitimate companies asking for money or a deposit up front, never to be seen or heard from again. With a reputable, professional company, you can eliminate this risk.
Finally, a professional company that specializes in this type of work can also spot damages caused by the storm that a layman might miss. Structural damage, trees with hidden damage or storm damage that isn't particularly noticeable to the average person can be identified, evaluated and corrective steps taken by a trained professional. Additionally, a professional who is trained in the cleanup of hurricane storm damage will know the options available, along with the best or most cost effective method of returning your property to a useable condition. Yes, it is always best use trained professionals to clean up the debris left behind by a hurricane.