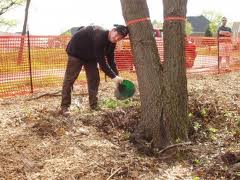 Many homeowners choose to clear the land on their property to make room for a pool or another building. While it may seem easy to simply hire professionals to come to your property and clear the land of trees and debris, there are also many steps you can take to ensure that the work gets done smoothly and quickly. Knowing what you need to do in order to prepare for land clearing is essential before you even make plans to have the construction company come to your home and property.
The first thing you are going to want to do before having the site clearing company come to the home is to remove any furniture or items from the area being cleared. For example, you might have lawn furniture scattered on the grass and these items can definitely get in the way of the land clearing professionals. You will want to remove any and all of this furniture and store everything away in an area that is safe and clear from where the professionals are going to be working. If you have fencing in the area that is going to be cleared, you are also going to want to take this down before the professionals come.
The job of the land clearing professionals is to take down trees and shrubs so that you have a clear property that is perfect for a pool, home or other structure. The land clearing professionals are also going to flatten the ground of the site they are working on. Because of this, it is important that you remove any and all bushes and shrubs that you would like to save. If you have a garden in the area, be sure to replant all of your vegetables in order to keep them completely safe. When it comes to having your property cleared of trees and debris, it is best that you prepare for the professionals before they even get there.