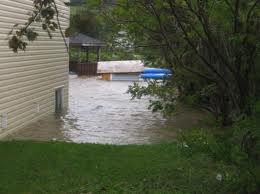 Any home builder cannot deny the value of lot grading, which prevents the effects of flooding. Grading is not the first consideration that new home buyers make, but it has a large effect on the house condition. However, many home inspectors find that incorrectly designed grading is a common problem.
An improper or negative slope tilts toward the home. The slopes cause various house problems, such as floods caused by heavy rain and ice thawing. Pools of water collect around the foundation and grow larger with each storm. Conditions, like water freezing and erosion, will destroy the structure over time. Water collects around the basements, slab foundations and lower-level areas. Wood rots and mold forms.
There are different solutions to the problem. Clogged gutters cause leaks and floods. Downspouts that are cluttered with dirt and debris are more likely to overflow with water. Drainages and waterproof membranes could be needed. The precise grade of the grade and distance from the house is disagreeable, but one inch per foot is a standard. The slope should be viewable to the eye. Another consideration is the water absorption into the ground. If the ground is very absorbent and contains materials like sand, the grade may not be important. Landscape designers can discuss the different types of solutions available.
A slope of land is built around the home to protect the base from flooding caused by excessive rain and snow. If the grade is not built correctly from the start, floods ruin the yard and basement. Cracks, mold and leaks are just a few problems caused by an ineffective grade that does not tilt away from the house. This problem should be fixed right away before the next rainstorm comes. Home builders and owners should follow local building regulations and only use professionals for the work.