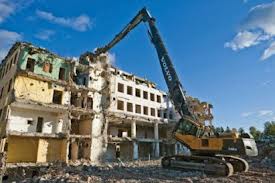 High reach arm demolition is an alternative to implosion and leveling technologies. The successor to the wrecking ball, this method involves pulling down a building from the top, using an extremely powerful hydraulic arm or lift mechanism.
This mechanism is primarily used on buildings that exceed twenty meters in height. The reason there is a height minimum for this technology is that a traditional wrecking ball or implosion method can cause serious dangers in very high buildings, including flying debris and extremely large clouds of dust. High-reach demolition is a cleaner, safer way to pull tall buildings down.
Another reason that this method has surpassed traditional crane and ball methods is its relative quiet and lack of risk to the operator. A typical ball and crane setup can only be operated by extremely skilled personnel, and can create large amounts of damage if the ball swings incorrectly. Also, there is a risk of the crane tipping or weaving during the wrecking process, as the usual wrecking ball typically weighs in excess of thirteen thousand pounds.
High reach demolition is a multi-stage process, requiring numerous other devices to crush and reduce smaller chunks of debris. The single boom arm used to pull down structures cannot also dispose of the resulting messes, so a competent team of wreckers should be on hand to break down the pieces of building that have fallen. This team will require numerous tools and hydraulic crushers to completely reduce the building to rubble, and naturally plenty of construction vehicles to remove all the resulting rubble.
If you're going to be demolishing an exceptionally tall building, reach arm demolition is the way to go. Not only is it the most legally sound method for tall buildings, it's also safer and cleaner than most other tall structure demolition methods.