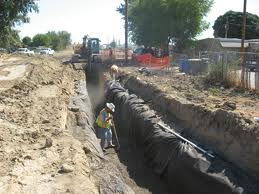 When homeowners and small-business owners attempt projects such as digging a trench for plumbing or removing dirt for a new swimming pool or basement, they expose themselves or their employees to several hazards.
The most common hazard at any excavation site is a cave-in. They can occur suddenly and silently. If a worker is in the site when the cave-in occurs, serious injury or even death can result within minutes due to the crushing weight of the soil.
A cave-in is the result of a sudden downward and inward shift of the soil from the walls of the excavation. Sometimes, the walls will collapse if the excavation is done in soil that is unstable or in soil that was previously disturbed. Other times, if there is too much weight from machinery or excavated soil near the edge of the site, the walls can shift and collapse.
Another hazard of excavation is breaking underground service lines. Utilities such as gas, water or electric are often buried at varying depths and are not clearly marked. A local utility locator company must be called before the excavation begins to determine their exact location. Once located, utility lines must be carefully exposed and modified as necessary. The consequences of disrupting a gas or electric line can be fatal.
While there are many building projects suited to do-it-yourselfers, excavation is not one of them. Excavating professionals have experience with all soil types and can deal with any kind of digging danger. They use special safety techniques and have the right equipment for every phase of excavation. Excavating is a job best left to the professionals.