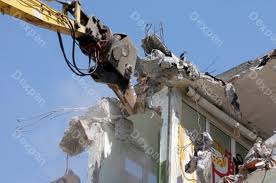 Demolition is a process of tearing down old infrastructures to replace them with new buildings. Since demolition is capital intensive and requires a lot of manpower, it is usually initiated by a big private company or the government. The entire demolition process is conducted using various devices and equipment such as bulldozers, wrecking balls, cranes and shears.
Of all the equipment above, hydraulic shears are the most commonly used in the demolition process. Shaped like a hydraulic breaker with metal jaws, it is usually fitted to mechanical excavators or backhoes. Apart from general demolition, it is also frequently used for roadwork, quarrying and laying the groundwork for construction. Hydraulic shears can cut through rock, concrete, steel and wood. It is the perfect tool for demolition in instances where the use of flame cutting would be dangerous.
Several days before the actual demolition takes place, the site is thoroughly inspected and properly cleared. Safety checks are conducted. Before a building is razed, hydraulic excavators are used to topple it via an undermining process to control the direction in which the building falls. Walls are then constructed around the parameter of the building's base. Concrete deck and piers are removed using hoe rams while structural steel elements are dismantled using hydraulic shears.
Newer methods make use of rotational hydraulic shears to speed up the demolition process. Nowadays, it is difficult to imagine tearing down a huge infrastructure without the use of hydraulic shears.