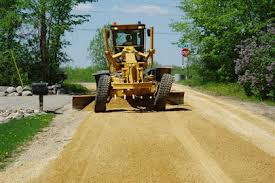 Gravel roads are useful ways of travel, particularly in rural areas. It is a type of road that works well in all weather conditions, so you may find them in various climates throughout the world. It works well for colder climates because it suffers less damage from freezing and thawing each year. However, gravel roads do need regular maintenance in order to prevent instances of rutting and diminished water runoff. If left unmaintained, the gravel road could easily be washed away over time.
Grading a gravel road helps to maintain the integrity of the road. The process of grading consists of identifying corrugations and reconstructing the road where gravel has scattered too far. Grading repairs these problems and as long as a good quality gravel is used, the repairs can last for months.
Road grading should be done anywhere from three to five times per year, depending on the overall weather conditions and the frequency of traffic on the road. If dust is problem when grading occurs, calcium chloride will also be applied to the road to reduce the amount of dust in dry summer months. The best time to make the biggest repairs to any gravel road is in the fall.