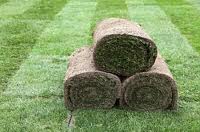 A decision between re-seeding a sparse lawn and laying sod in the spring is a dilemma that is not new to property owners. Either option has its advantages and disadvantages.
Make your final choice easier by identifying the role that you want your lawn to play. The types of grasses in seed or established rolls of sod available in your area will play and important role.
Some grass types are more fitting than others for high traffic areas. Others are more fitting if you are attempting to plant a delicate looking lawn as a piece of your beautiful landscaping plan.
The most obvious reason to lay sod in the spring when danger of a frost has passed is the advantage of having a lush lawn in a short amount of time. The sod can be laid as soon as the soil is dry enough to work. As long as proper attention to nutritional needs has been met, the sod will quickly establish itself. This is especially important to homeowners who may face problems of erosion.
A sod lawn discourages the growth of weeds that can plague gardeners who choose to re-seed their lawns rather than laying sod for spring. Weeds flourish during the early planting season and will compete with grass seed for nutrients. The early hindrance of weeds will make maintenance easier during the growing season.
Consider the time available to establish the lawn in the weeks after re-seeding or laying sod for spring. Either option needs a lot of moisture as it starts to grow. Re-seeded areas of grass will dry out more quickly that sodded areas. While sod has to be watered at least twice a day, a newly re-seeded area usually needs to be watered more often to keep the soil moist enough for the grasses to survive.