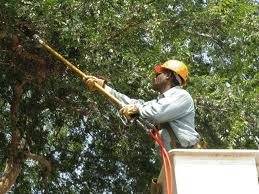 In order to maintain an attractive yard, a homeowner may occasionally have to trim overgrown trees. Although the process of tree trimming is straight forward, it is not without its hazards. The following will provide a few safety practices everyone should follow when trimming trees:
The first and arguable the most important safety practice is to never trim trees close to power lines. Only trained professionals should trim tree limbs and branches hanging dangerously close to power lines. Trimming trees near power lines presents unnecessary risks and dangers to a homeowner, which are better left to professionals who have significantly more skill and experience with such situations.
Another concern when trying to safely trim tree branches is falling. The higher the branch needing to be cut, the more at risk the individual is for falling and seriously hurting oneself. If a branch is too high to reach from the ground, a sturdy ladder is recommended. Furthermore, having someone hold the ladder steady while another trims the branch will reduce the chances of an accident happening.
The previous tip plays into a final safety practice everyone should follow: One should never trim trees while alone. Having someone else present to attend to the hurt individual's immediate needs as well as calling for emergency help will pay dividends should an accident occur. If an individual is determined to trim trees while alone, he or she should have an easily accessible mobile phone in case an emergency call is needed.
Trimming trees does not have to be a dangerous activity provided an individual takes the proper precautions. The three main practices an individual should remember are as follows: reserve cutting branches near power lines for professionals, use a ladder for higher branches and limbs, and have someone else present if at all possible. With these three safety practices in mind, an individual can greatly reduce the chances of getting seriously hurt while trimming trees.