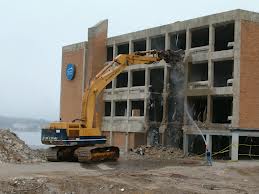 When hiring a company for demolition work on your commercial property, there are certain details that you should come to expect from the crew you hire. The fact that you may have to close down your business, or temporarily relocate your office, for a short time, can be overwhelming, but you should be able to take comfort in knowing that a professional demolition team will provide the following when they deliver their services.
First, estimates should be accurate. While it is true that something may come up, such as a rotten section of plywood beneath your flooring, or termite-damaged studs behind sheet rock, the short extension (if any) and the extra materials needed should not bring your costs up too much.
Second, you can expect the team you hire to have at least one member who is experienced when dealing with site safety matters and hazardous materials, such as asbestos and lead. The crew is not going to leave your site because of preventable accidents that come about from people not wearing gloves, goggles, or safety boots.
Third, a commercial demolition team will be very efficient without being careless. While it may take the careful hands of a craftsman to put the finishing touches on your waiting room or entryway, demolition teams will be able to tear through your project with speed and precision while not hurting the value of your investment.
Lastly, while demo work may be messy, a good team never leaves a mess. When the job is finished, all scrap should be cleared out, debris hauled off, and dust swept up so that the next crew to work on the property can do so without any initial distractions.
A demo team that does not fulfill these expectations should expect not to be hired.
CONTACT REALTREE, INC TODAY ABOUT YOUR DEMOLITION PROJECTION