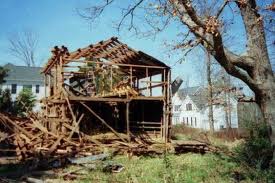 Sustainable Methods
Individuals who enjoy architecture have often entered dilapidated buildings to reclaim valuable stained glass windows, detailed metal fixtures and carved wooden objects. These rare and highly crafted items are often reused while constructing new buildings. However, environmentalists concerned about green sustainability are now suggesting deconstruction methods for the majority of a building's materials during a demolition.
Importance of Deconstruction
Environmentalists believe that workers who demolish buildings can find ways to reuse or recycle most materials instead of adding trash to landfills. The process of deconstruction is a vital environmentally safe method of demolition. Demolition experts remove windows, doors, flooring, metal and other materials to reuse in new structures. Alternatively, objects that are not appropriate for new structures are taken to recycling centers.
Recycling Materials
Recycling centers now have many ways to breakdown materials to enable total repurposing. The new sustainable deconstruction process reduces waste of old materials while preserving attractive architectural items. Deconstruction techniques are safer for the environment in several ways. In the past, demolition crews destroyed old structures with wrecking balls or explosive device methods.
Avoiding Pollution

 
This type of demolition creates piles of worthless junk that are hauled to landfills. As buildings are destroyed with explosive devices or wrecking ball techniques, the air, water and ground is polluted with dangerous chemicals. Harmful lead, asbestos and other materials from old-fashioned demolition methods disperse causing health conditions such as respiratory illnesses. 
Helping the Economy
As the earth's resources are becoming more depleted finding ways to recycle metal, stone, wood and other materials is imperative. Architects are also preparing for the future by creating designs for green environmentally friendly buildings that are easier to deconstruct when they are no longer needed. Deconstruction methods also assist communities and the economy by offering additional jobs to demolition experts.