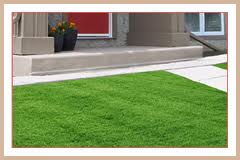 You can repair your winter-wounded lawn and have a luscious, healthy carpet of grass to walk on and enjoy this spring. When you perform each step, results will depend on your area and the type of grass you have. Before spring arrives, do the following:
• Kill weeds before they start with a pre-emergent weed killer. Follow the manufacturer's directions in order to provide the best coverage for your lawn. Keep pets and children off the lawn during this step.
• If you have problems with ants, grubs, fire ants or other damaging insects, hit them before they get a chance to become established. Be sure to use the right insecticide for the problem.
• As your new grass begins to emerge, give it a good feeding with an organic fertilizer. Be sure to follow the manufacturer's recommendations for adequate coverage. Use only enough water to soak the fertilizer into the ground.
• For dead spots, rake any old plant material away and cover with seed that matches your grass. Water according to the supplier's instructions.
• Allow your grass to grow at least five inches tall before the first mowing.
• Sharpen your lawn mower's blades and tune it well before using it. Dull blades will tear the grass and encourage disease and insect infestation.
• Only cut one-third of your lawn's height at a time. If you need to use a ruler to measure your grass, go ahead. Set your mower's blades accordingly and make one pass over the yard.
• Mow again the following week, removing one-third of the lawn's height. When your grass reaches the best height for the species, only mow as needed to maintain it.
• If the lawn overgrows, repeat the process of removing one-third of the height at a time to avoid killing the grass through shock.
It is not hard to have a great looking lawn. By maintaining your lawn properly, it will stand out as the best in the neighborhood.