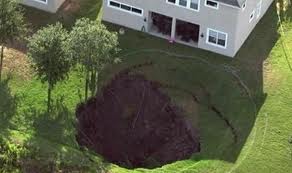 Sinkholes are not unusual in some parts of America. Wherever a sinkhole appears, the situation is dangerous, especially if the hole is located on your property. Here are the steps you need to take to repair a sinkhole. Be warned, you should seriously consider hiring a professional do to the work of sinkhole repair. This is not a job for beginners.
The first step is to view into the sinkhole. If possible, you want to know what type of material rotted away, leaving a void that became a sinkhole. It could be trash, or old rotten wood in the sinkhole. The wood could have been left by construction workers or it could be the remains of the stump and roots of a tree. You need to remove any debris that is visible.
Then, using a spade, work straight back from one point, away from the hole. Carefully remove any turf, saving it for later. Push soil down into the sinkhole. As your work backwards you will eventually get to more solid ground. Repeat this in a least four other points, equally spaced around the hole. This process defines the sinkhole boundaries.
Then you start putting fill dirt into the hole. Use long poles to tamp the soil as much as much as possible. Water should be liberally sprayed on top of the new soil in the hole. This helps settle the new soil as much as possible.
The filling process continues until the hole is filled within about six inches of the bottom of turf in your lawn. Then you put topsoil over the compacted fill dirt. The last part of the repair is to replace the turf. Make sure the area is well watered. Mark the area as a hazard and keep anyone from walking over the repair work area for at least a week.
Remember, the process of sinkhole repair can be dangerous. It is best to hire a professional to do the work. They have access to the right type of fill dirt and the experience to do the job safely.