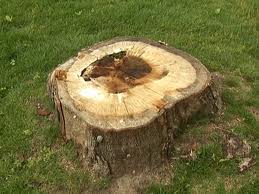 When a tree needs to come down, the immediate focus generally is only on the tree and getting it removed. Practically no tree removal companies include dealing with the stump when giving estimates. If they have the ability to grind the stump, it almost always is at an extra charge. If they do not have the capability to dispose of the stump, they are not likely to highlight that fact for the property owner.
The property owner needs to understand the importance of stump grinding. Stumps are ugly in the landscape, and eventually the property owner will want to have the stump removed. A separate trip translates to higher cost. Even though it carries an additional charge at the time the tree is removed, having the stump ground then will cost less in the long run.
Stump grinding carries the least environmental effect of stump removal. Some people advocate dousing the stump with kerosene or even gasoline to speed the decay process, but that approach can be dangerous for the homeowner or for children or pets that may come in contact with the treated stump. An old practice of times past, kerosene and gasoline can be dangerous for ground water purity. Using either also may be illegal, depending on local ordinances.
The homeowner also can choose to hack away at the central portion of the stump with an axe, but that approach is labor intensive and does nothing to address the large roots extending from the stump below ground level. As those roots decompose, the ground sinks into ruts and channels. The result is an unsightly area that is difficult to mow and even dangerous for older people to try to walk on with its many trip points.
In the end, it is difficult to overstate the importance of stump grinding. It eliminates the dangers of other means of disposing of stumps and provides the most pleasing result in the landscape.