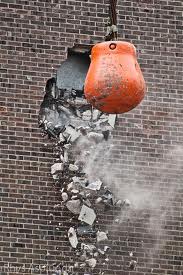 Crane and ball demolition is one of the oldest demolition methods devised and is still commonly used all across the United States. Whether it is to bring down an entire concrete structure or to demolish part of a building in preparation for new construction, this demolition method remains fast and cost effective.
When to Use a Ball and Crane for Demolition
In many cases, crane and ball demolition is used when only a part of a structure is to be demolished or when the surrounding area makes explosive demolition techniques unsafe to use. The ability to effectively control the wrecking ball makes it easy to demolish the building one part at a time, without endangering workers who might otherwise have to enter the structure.
Additionally, buildings that contain large amounts of asbestos are often demolished by crane and ball techniques rather than by explosive implosion due to the danger of creating a large amount of asbestos dust. By using a wrecking ball, it becomes possible to demolish the building in such a way as to not release hazardous quantities of asbestos into the atmosphere.
Safety Precautions
Because the wrecking ball is connected to the crane via a chain, care must be taken when operating it to control the direction of its swing. Missing the target can often lead to the crane being overturned by the force of the ball's swing. In some cases, the operator may even accidentally cause the ball to strike the control cabin of the crane, leading to severe injury or death. For these reasons, the area must be cleared before demolition operations begin and all crane operators must be fully trained in how to use a wrecking ball.
The Outcome of Demolition
Crane and ball demolition is an excellent method to demolish concrete and brick structures. In addition to its other strengths, wrecking balls leave the rubble conveniently sized for removal from the site. Furthermore, this method of demolition requires less site preparation than explosive demolition and is more labor efficient than hand demolition. For these reasons, crane and ball demolition will continue to remain popular in the United States.