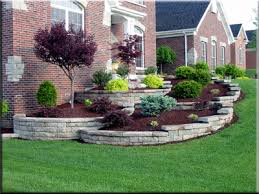 The bulbs are being stocked, the gardening gloves are flying off the shelves, and fluids are being added to the lawnmower. All of these things are sure signs that spring has arrived, and landscaping is entering into people's minds once again. This year, you can make a real difference in the success of your yard's design by incorporating grading into the preparation and execution of your landscaping plans. Failing to account for drainage can lead to flooding in multiple areas of the yard, causing serious damage to your flowers, trees, and grass. Even the most minor flooding can still have long-term consequences.
When too much water builds up in one area, it inhibits the ability of the soil to retain enough oxygen to support the root system of your plants. Grading susceptible areas to allow for proper run off of rain water is your first line of defense. To begin grading your landscape, identify critical utility lines running through your property in order to avoid damaging them during the process. Once you have done this, you must also identify where your property ends. Here, you will construct a small pool for water to accumulate if there is no public drain available.
Plant one stake roughly a foot from the edge of your home's foundation and another one at your end drainage point. Run a brightly colored string between the two stakes to assist in determining the proper grade for the landscape. You must then raise the stake at the drainage point until it is evenly balanced with stake beside your foundation. By measuring the distance between the stake you have held in the air and the ground, you are able to determine the grade of your yard. The rule of thumb for most landscapers is a gradation that drops 12 inches for every 50 yards of space. You can begin the grading using professional or rented equipment, creating a controlled slope from your foundation to the drainage point. Many people prefer a terraced slope in order to slow the flow of water and provide better footing for people walking over the surface.