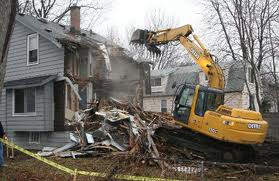 The decision to demolish a house can be stressful. A house demolition happens when a home has been all but destroyed by time, weather or an accident. Demolition also takes place when the land is more valuable without the current structure than with it. Demolishing a house takes more than simply starting up a bulldozer and slamming into the structure to knock it down. There are steps to take for safe house demolition.
Professional Work
Not everyone is qualified to demolish buildings. It takes experience and training in order to make the different parts of the structure come down without harming persons or machines. A professional crew knows how to take down the structure and clear it way with the most efficient and environmentally-friend methods. Professionals understand and use the highest standards of safety, which is why it is important to hire professionals.
Laws
There are any number of legal requirements that must be met in order to gain permission to demolish a house. Be sure you have all the permits required before starting any demolition. Property inspection is often a part of the process as is a plan for future land use. 
Prior Precautions
Before demolition, the house is stripped of furnishings and anything the owner wishes to salvage. This may be windows, molding or other items that can be recycled. Of course, utilities are disconnected. Pollutants and hazards, such as asbestos, is also removed in an environmentally safe procedure. 
Process
Once the house is stripped of salvageable items and hazards, demolition takes place. Smaller structures, like houses, are simply pulled down using a bulldozer, cranes, excavators or hydraulic equipment. Demolition crews weaken the base of the house at strategic points in order to control how the building collapses and the direction walls fall.
Left Overs
There are recycling requirements that state debris must be disposed of or recycled properly and according to environmental and other laws.
CONTACT US AT 321-309-9900 FOR NEXT PROJECT