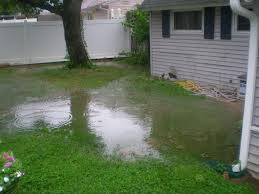 Rainwater can cause an increase in the flow of water in the yards. Water can drain from the roof of the home, driveways and walkways into the yard or garden. Drainage issues can create small ponds or soggy areas in the landscape. A professional landscaper will need to be consulted to discover some ways to prevent the flooding.
Professional grading and excavating can prepare the yard for proper drainage. The grading will direct the water to a new path after a large rainfall. Landscapes with the wrong soil type or wrong slope can cause the water to run toward a home instead of away from it, but with the proper grading, the water will be prevented from going toward the home.
Soil can erode quickly during a flood. The soil will form a gulley or a trench making the landscape look more like a river when it rains. The solution is to plant grass with strong root systems. The roots will hold the dirt together making it harder for the floodwaters to remain in the yard. However, a professional will be needed to make sure that the land is prepared correctly for the grass and other plants to grow successfully. The plants will provide a protective shield between the land and the floodwaters.
A professional can install drainage systems or pumps to carry the water away from the home if the other solutions do not solve the issue. The landscapers will dig a sloped ditch or trench to enable the water to drain properly. They will place drain tiles or pipes in the ditch to aid in water removal. This method will need to be done properly to work successfully.
Flood prevention is necessary to prevent damage to the lawn and foundation of the home. In addition, the standing water in the yard can breed mosquitoes and other pests. Therefore, if water drainage is a problem, a professional landscaper will be needed to change the way the lawn collects water to safeguard the home against damage.