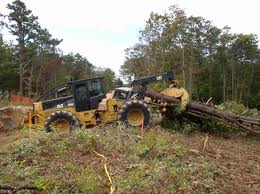 When considering new construction, land clearing methods are almost always a consideration, particularly if the land in question is heavily covered with trees and brush or undergrowth. There are numerous methods that can be considered, but the following are the three most common.
The pushover method involves pushing trees over intact and removing them with roots still attached. This method involves some fairly large construction equipment with the force needed to uproot the trees in the first place and then haul them off to a central location. The advantage of this method is that removing all parts of the tree will likely prevent any attempt by the roots to grow back and possibly cause structural problems in the future to whatever building are erected on the newly cleared land. In addition, the wood is often processed for sale or ground into mulch rather than simply wasted.
The cut and grind method involves cutting down the trees and hauling them away for similar processing for sale or mulch, but the stumps are left in the ground. The stumps can then be ground down in place and used for mulch or can later be pulled out with the use of large construction equipment. The wood that is cut is not wasted and there is less effort if it is found that some of the stumps do not have to be removed.
The controlled burn method, although possibly dangerous, is effective at removing all trees and brush from a designated area by starting a fire and containing it to only that area. The advantage here is that all growth can be burned completely to the ground and removed by the same construction equipment used to remove the trees in other clearing methods.