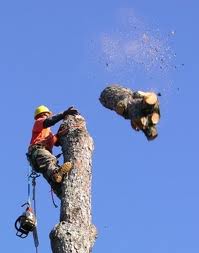 It's possible to ballpark tree removal costs. Just bear in mind that costs vary by a contractor's overhead, experience, and location. Following are factors tree removal professionals consider when gauging costs.
When figuring price, consider the tree size.
Small trees less than 25 feet tall and up to a foot in diameter may cost $8 per linear foot.
Medium trees up to 50 feet tall and up to two feet in diameter may cost $9 to $10 per linear foot.
Large trees up to 100 feet tall and up to four feet in diameter may cost $10 to $11 per linear foot or considerably more.
Contractors also take into account whether the tree presents dangers or challenges. They consider whether the tree jeopardizes homes or power lines. Things like large wasp nests could require special handling. If conditions call for a crane or additional workers the price will rise.
Recovering Costs
Simple quotes only allow for cutting down the tree and removal of branches. Removal of the trunk and stump may be additional. Some homeowners prefer to recover some costs by dealing with these parts on their own.
It might be possible to recover some cash in certain cases. Wood workers might be interested in desirable hardwoods. Artists and crafters may want Birch wood. Good firewood is sought by homeowners with fireplaces. Poor firewood, like pine, might be used in camp fires.
Extra Fees
If branch chipping and yard clean up is not included, an hourly rate of $50 to $150 per hour may apply.
Trunk removal may add an additional several hundred dollars or more to the bill.
Stump and root removal may add an additional $75 to $400 to the bill.
Get quotes before having a tree removed. Make sure the quotes cover all the aspects of removal that you require. There's peace of mind in knowing the estimated cost before work begins.