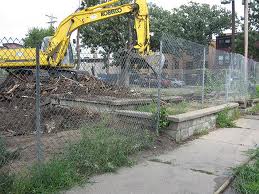 Although demolition is a step in new construction that has become fairly common place in large cities and revitalization projects, there are still plenty of risks that are present with each and every project. Demolition contractors take a number of action steps to ensure that each project goes as planned and that the safety of workers and the surrounding community are maintained. Reducing the danger involves extensive preparatory operations that relate to the integrity of the building and the ideal methods for bringing it down.
Initially, an engineering survey is done in order to determine the current physical integrity of the building itself. This information plays a big part in formulating the strategy for demolishing the building safely and efficiently. These surveys will let contractors know if the shoring of walls, bracing, and other safety precautions must be made before continuing forward. Following this step, the contractor must locate all utilities linked to the building concerned. Electric, gas, water, sewer, and other municipal services must be shut off in order to prevent unpredicted occurrences during the final stages of demolition.
At this point, the community plays its part in maintaining the safety of surrounding buildings and citizens. Medical services, police, and fire departments are put on notice as the work moves forward. Each of the managers on the demolition site are given direct access to these services, and they are briefed with the most direct routes to hospitals and other emergency facilities. All sites are also equipped with extensive first-aid kits so that any injury can be treated to some extent immediately before any further help arrives. The police and fire department also play key roles in regulating the behavior of the public surrounding the project. Preventing vandalism, smoking near the site, and controlling any crowds at the moment of the demolition are valuable services that allow the project manager to proceed with the highest level of safety possible.