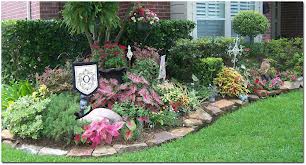 While kids everywhere celebrate that school is out, home owners are letting out a groan, as it means the extreme heat of summer is going to wreak havoc on their yards. How can you keep your landscape and plants healthy throughout the summer? Here are 5 ways you can make sure your yard keeps looking great through the summer and into the fall.
1. Water deeply but infrequently. This may seem counterintuitive, but it encourages plants to grow long, deep roots that can get moisture from the soil. You should add about 1″ of water a week to achieve the depth you need.
2. Water in the morning. Before sunrise is the best time to water your plants, as there's less heat to evaporate away all the moisture. In some counties during the summer, it's even illegal to water in the middle of the day.
3. Use mulch. A layer of organic mulch two to four inches thick helps to keep plant roots cooler and retain more moisture. Mulch is incredibly beneficial anyway, but summer time is the perfect time to take advantage of its cooling properties.
4. Install drip irrigation in garden beds. Lawns aren't good for drip irrigation, but if you can convert sprinkler heads into drop sprinklers, you can water specific areas that need it most.
5. Keep aphids away. Seek out non-pesticide alternatives if you want to get rid of garden-destroying pests like aphids. The most popular way is to buy "predator" bugs, such as ladybugs, which won't hurt your plants but will attack the aphids. Besides, ladybugs always look cute in someone's garden.
The extreme heat of summer time doesn't have to mean death for your lawn. Follow these tips and you'll be certain to have a gorgeous and healthy front and back yard, this summer and every summer.