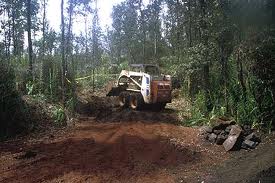 Now that you've picked the perfect piece of heaven to build your home on, you'll probably need to do a bit of land clearing. There are a whole host of issues that will arise when it comes time for tree selection before you begin to clear land. These issues often go beyond actual personal choice in the different types of trees you want to keep or get rid of. Proximity to the planned structures, health and permits for removal are just a few of the considerations.
Tree Removal Permits
Check on the local building codes in your area before removing any trees. Some areas protect trees that have grown to be a certain diameter. These you won't be able to have removed unless they are dead or damaged beyond saving. Fines for not having proper tree removal permits can sometimes be high.
Tree Health
Trees that are dead or badly diseased should be removed. Storms with high winds will most likely bring them down a piece at a time anyway. Dead trees can offer sanctuary to unwanted wild animals and bugs.
Obstruction of View and Micro-Forests
The trend these days is to leave as much natural setting as possible when you clear land for a new home to be built. As long as you have a few nice trees scattered on the property, there's nothing wrong with removing one or two that will obstruct a good view. Leaving some areas natural and uncleared is fine, but remember they are attractive homes to wild animals and bugs alike.
Building Obstructions
Trees that could interfere with foundations, septic drainage or leach fields should be removed. It's also wise to remove any that have been damaged by the land clearing equipment, or near areas that heavy equipment will be used.