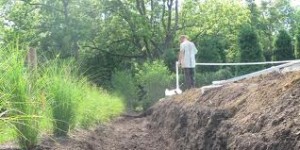 While most home owners expect that their house will need some amount of upkeep and maintenance over the years, few realize that their surrounding property is also subject to gradual decline. Everyone knows that trees and shrubbery require regular pruning, fences occasionally need to be mended and the lawn always wants mowing or fertilizing, but few people consider that the actual ground around their homes may also change over time.
When a house is first constructed, not only is the building itself designed according to plan, but the landscaping too. At some point, a landscape architect was tasked with laying out the surrounding property, ensuring that proper grading and drainage structures were incorporated to divert water away from the house, drives and pathways so that no puddling or foundation leakage would occur.
However, after years of rainstorms, subsurface water flow and gradual foundation settling, a homeowner may suddenly find unexpected puddles and low spots on his or her property, or water seepage into the basement that never appeared before. This is a clear sign that the original conditions have changed and that the property's landscaping is in need of some serious home maintenance.
More often than not, the simplest way to redirect the flow of water, thereby eliminating low spots and puddling, is with the addition of new fill dirt in those areas that have subsided. Adding new fill should not only get rid of the unwanted puddles but also help alleviate any leakage into your home's foundation since water will now have a clear path away from the structure and not have time to seep through the soil.
With proper care and routine maintenance, a home and its surrounding property can last for generations and fetch the highest market value when it comes time to sell. Just remember that proper upkeep involves not only tending to the topside issues, but also caring for the ground beneath your feet.