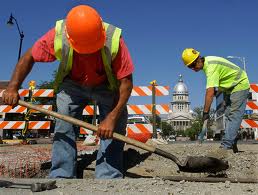 No matter the reason you find yourself working in the heat, there are important reasons to be safe, with the most important being for the sake of your life. Without proper safety measures, you will be sure to find yourself laying on the ground enduring a heat stroke. Let's take a close look at several heat safety tips you can follow to make your days working in the heat as safe as possible.
Tip 1. Dress Appropriately
Chances are, you have to dress according to a dress code for your job; however, you can still dress in lightweight clothes during the hot parts of the year. Also, remember to dress in clothes that are loose-fitting. If your clothing becomes completely saturated in sweat while working outdoors, you need to change your outfit. Keeping this in mind, always take an extra outfit with you.
Tip 2. Get Plenty of Rest
You need lots of rest both before and during work. While it may seem inappropriate to take a break every 20 minutes, when it's really hot outside, frequent breaks are needed. In fact, your productivity level is likely to be much higher if you take a break every 20 to 30 minutes versus every two hours.
Tip 3. Become a Trained First-Aid Worker
By being trained in first-aid, you will be able to easily recognize the symptoms of heat exhaustion and many other types of heat-related illnesses. You will also know the correct ways to go about treating such conditions.
Tip 4. Talk to Your Doctor
If you suffer from certain health conditions, such as diabetes or any type of heart-related illness, you need to speak with your doctor about safety tips for working in the heat. You also need to keep in mind that certain medications will increase your risk of injury after prolonged exposure to heat.