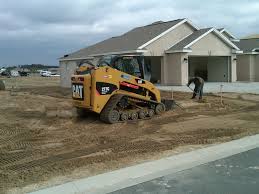 Grading is the foundation of every landscaping project on your property. The way that water travels on and beneath your land creates the structure for every feature and every issue that you will have. When you are preparing for grading projects you must consider drainage first, last, and always. Though the movements of water beneath the earth may be obscure and difficult to detect, they will determine the future of your land, your home, and your property. This article will tell you what to do to prepare for grading and what homeowners need to know and do in order to make the project a success.
Grading is often one of the simpler tasks that a landscaping company undertakes. It requires heavy equipment, but once the Bobcat or bulldozer is on site even the largest yard can usually be done in a day. All that the company really needs for grading is a clear space to work and excellent information. Remove all movable features, from sheds to swingsets. Then take a hard look at the land.
The importance of underground flow of water cannot be overstated. It is essential to know where rain runoff and other water enters the property and where it leaves. Although a healthy yard will impound more water than a vacant lot might, it is important that the property not trap water or dispose of it inappropriately. Water should never run under the foundation of the house, so a gentle slope away from the property on all sides should be considered. Trees, gardens, and other pre-existing vegetative features should be provided for and incorporated into the plan. Make sure that trees will still receive as much water as they need, but do not make the mistake of drowning them when it rains. Most importantly, make sure that the natural lie of the land is taken into account. The earth will often reveal its hidden structure and drainage issues if you watch it in the rain. An evening of careful observation can make your grading job immeasurably better and save a lifetime of drainage issues.