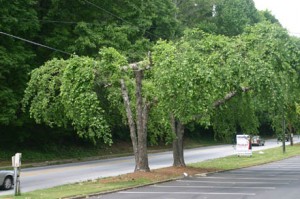 Many people are often tempted to handle all of their home and property maintenance. It can seem like a great way to save money and keep yourself busy and involved in your home. That said, there are certain tasks that are best left to the professionals. You might be able to handle most of your smaller tree trimming, but once they get larger or power lines get involved, chances are that you are best off contacting people who have been trained to handle the job.
There are a lot of power line dangers that a person can come up against if they decide to attempt to do their own trimming. Obviously, the person would put themselves at considerable risk, but they also put their nearby neighbors at risk. Wires can spark if cut and cause fires to break out. As a homeowner, it is your responsibility to minimize the the potential damages to your neighborhood. Of course, there are also functionality concerns to address.
If you should accidentally cut a wire in the process of trimming your trees, you risk cutting the cable, electric, internet, or phone wires for your neighborhood. As you can probably imagine, this would not be a great way to gain favor with your neighbors. It's also worth considering that you probably won't be able to trim your trees in a way that is as aesthetically pleasing as what trained professionals could provide. So, when it comes to trimming tall trees, and especially those that are near wires and power lines, it really is a "professionals needed" type of job.
It doesn't make you any less skilled or knowledgeable in your ability to maintain your house. It simply shows that you understand the associated risks and have decided that enlisting professional help will likely produce the best results.