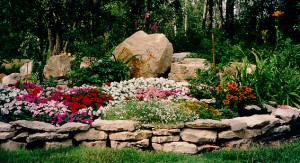 Landscaping is an important element to any home or business. Many homeowners will spend fortunes on decorating the interior of their home but they completely forget about the exterior. Excellent curb appeal begins with professional landscaping. With the use of stone accents, a home's exterior can go from ordinary to extraordinary. Choosing some of these unique landscaping stone trends, you can easily accent your yard.
Retaining Walls
Retaining walls can be designed and constructed with a variety of stones. Many professionals who deal in landscaping designs will incorporate a retaining wall in at least one area of the home's yard. They are usually built with natural stone to create boundaries or decorative accents. Many landscapers will create a retaining wall around a flower bed. Homeowners can work with their landscaper to choose the perfect stone accent for their retaining walls.
Decorative Ground Cover
Many stones and pebbles are used to accent your yard in various ways. Flower beds are usually filled with mulch or pine straw. However, more and more people are choosing marble, granite, or limestone pebbles to cover the areas surrounding their favorite plants and flowers. They are not only attractive to use in a garden or landscape, but they require no maintenance and last a very long time. Unlike mulch or pine straw which has to be filled every few years.